Just like there are important things to know in life – like unicorns are real and don't leave your straighteners on – there are also important things to know about makeup. You know, like how to have the most amazing foundation that looks like skin, and how to make your eyeliner snatch your face. So, we're giving you the rundown on three must-know makeup tips so your makeup will be always be flawless.
1. Know your wing shape!
Drawing the perfect wing is a struggle at the best of times – but even if you managed to make them identical, is your wing working for you or against you? We've all drawn that dodgy wing where it's made us look tired and our eyes look droopy. We.feel.your.pain!!
By knowing the shape of wing that suits your eye, it actually makes the process so much easier, and you can help to make them look bigger and more awake. Whether you have round, almond, hooded, or deep-set eyes, check out our guide to finding the right wing shape for you. Of course, you can adapt the style and make it bolder depending on different occasions, but by having an idea of the shape you should draw, it makes the whole process so much easier.
2. Apply false lashes like a pro
Everyone loves the idea of wearing false lashes for a night out or event, but the reality of getting yourself to the fluttery finish is more difficult! Fortunately, if you're not a seasoned pro, there's an easy way take the stress out of applying false lashes.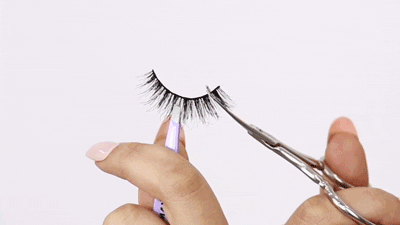 Instead of applying the whole lash strip in one go; once you've trimmed it so that it fits the width of your eye, cut the lash into three pieces.
3. Have flawless foundation, always!
First things first, make sure your foundation is working for your skin tone. Do you have red, yellow, blue or pink undertones? Make sure you know yours and find a foundation that matches. Similarly, try to match your skin tone – there's nothing worse than your face looking like it matches someone else's body. This means you may need to mix two shades; having two shades also means you can mix them to match your skin as the seasons change – you're likely to be fairer during the winter months.
Now you've got the shade right, application is everything – we already know you know step one is to prime your skin before foundation!
Step 1. Use your fingers to apply the foundation to the three main points of your face: your cheeks, forehead, and chin.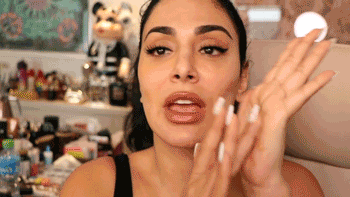 Step 2. Blend it out with a stippling brush or flat foundation brush using stippling motions. By applying the foundation with your fingers first, it means that the brush doesn't get heavy with foundation and is less likely to look cakey or streaky.
Step 3. Next, apply concealer to any areas that need extra coverage, and under your eyes to brighten and lift the area. Blend everything again with a damp makeup sponge. 
By using a foundation brush first, it means you get the most coverage from your foundation while finishing with a damp sponge ensures it will be perfectly airbrushed.
Tip: Once you've washed/ wet your blender, ring it out and then gently squeeze it in a towel. This makes sure the sponge isn't too wet and doesn't lift off too much foundation.
source:https://hudabeauty.com/en_AE/blog/makeup-tips-everyone-needs-to-know-52492.html